Tags
dating, dating app, Dating Apps, dating online, dating tips, hinge, instagram, okcupid, online dating, pinterest, plenty of fish, plentyoffish, relationship, snapchat, socialcam, threesome, video chat rooms, Video Dating, youtube
I was talking to a PR firm today and the owner brought in a female intern to ask her some questions.  One question he asked her is why she would rather meet guys in person, instead of having a video chat with them to see and hear their personality to make sure they have chemistry.  The simple answer she gave is: free food and drinks.
On the other hand, guys don't really like first dates because they get stuck with the check. I can't tell you how many times I was on a first date with a girl I met on a dating site who showed no interest in getting to know me at all, but had no problems ordering two or three martinis and a very expensive meal.
This is why the coffee date was invented. It's quick, cheap, and as long as both people like coffee, you can have an enjoyable conversation without alcohol or food getting in the way. The main issue is that most girls don't really want to go on a coffee date because they feel like the guy is cheap.  Or maybe they feel that any guy who isn't willing to spend $50 on drinks and food isn't really interested in her. But the truth is, after going on 1000 dates where I spent at least $50, there has to be a line drawn.
Girls can easily meet a guy every day of the week to get free drinks using dating apps like Tinder. It's easy for girls to have a lot of dates lined up in a week. Of course they want to have as many dates as possible because not only will they meet different guys, but they will continuously get free drinks and food in most cases.  This means they will be spending less of their own money, and less time grocery shopping or cooking.  This may sound extraordinarily untrue, but believe me when I say, it is closer to the truth than you might think.
So now you are probably thinking that although girls might get free drinks or food on the first date, most guys expect sex on the first date. When a guy spends $75 or more on dinner and drinks, it's no wonder they expect some level of intimacy.  Now if girls were okay with coffee dates (which some are), there's hardly ever any sexual tension because the most the guy is spending is $10 on two lattes. And coffee dates usually take place during lunch time or the early afternoon when people are still working and less prone to wanting to go home after the date to "get busy".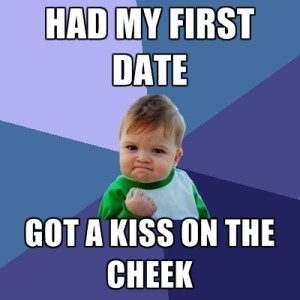 So it seems as if there are two options to having a successful first date.  First is make it simple, and go on a quick coffee date to see if you click.  Second would be a video chat to make sure you have enough chemistry to meet in person.  With the first option you have to spend $10, gas, parking, and time.  With the second option you spend no money, but a little time.  Even with the ubiquitous coffee date you still have to spend some money, so which is better in your opinion?  Leave a comment with your answer!
Tiny URL for this post: